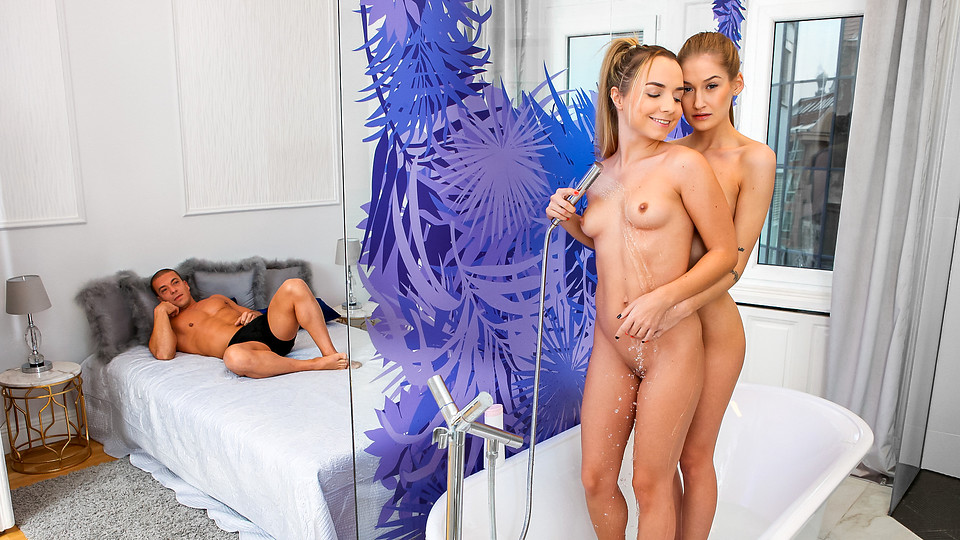 Mona Blue and Tiffany Tatum make the hottest lesbian couple around as they climb into the shower together. Between the warm spray of the water and their own tender touches, the girls indulge in a sensual bathing experience. As they wind down their wet fun, they look over to the bed where Matt Denae is watching the show and waiting for his chance to join in on the fun.
The girls dry off and then join Matt in bed. They work in tandem, stroking Matt's hard dick and dropping kisses on his lips. Tiffany is the first to pop Matt's fuck stick out of his briefs. On her belly, she licks and sucks her favorite treat as her heels kick back in obvious delight.
Eventually, Mona gets in on the blowjob action as Tiffany shifts her attention to sucking Matt's balls. Next, Tiffany finds herself on her back with Matt's tongue working the soft folds between her thighs. Mona is right there with Tiffany, caressing her girlfriend's breasts and peppering her with kisses.
As Mona watches Matt eat Tiffany out, her hand creeps to her own pussy to rub her clit. Eventually, she climbs on top of Tiffany's mouth so that Tiffany can deliver a pussy licking even as she continues to receive one.When Matt shifts to a kneeling position, Mona leans forward to give a bit more suck.
Then he guides himself into Tiffany's dripping twat. Since Mona is still riding Tiffany's mouth, she can easily make out with Matt as they each rock their hips to make sure Tiffany's pleasure is uninterrupted. Tiffany remains on her back as Mona arranges herself into a full-on lesbian 69. When Mona leans forward to feast on Tiffany's juices, her rump comes up to expose her pussy to Matt.
The position is perfect: Matt can easily fuck Mona in doggy, while Tiffany can alternate between sucking Matt's balls and lapping at Mona's clit.Next, it's Matt's turn to get on his back and let his lovers enjoy themselves. Mona climbs aboard Matt's hardon to rock her hips in a sensual ride, while Tiffany matches Mona's motions on Matt's face.
Eventually, the girls tag out so that Tiffany can ride Matt in reverse cowgirl while Mona rubs Tiffany's clit and suckles her hard nipples. Any time Matt pops out of Tiffany's dripping glove, Mona sucks him clean of Tiffany's juices and then guides him back home.Well loved and eager to please their boyfriend, the girls get on their knees together to resume their blowjob.
They share beautifully, each sucking and stroking with one goal. It's not long before Matt delivers, popping in their open mouths to deliver a salty treat for both girls to enjoy. More Nubile Films porn.
Check out this amazing post from NF Busty featuring Skylar Snow.
.