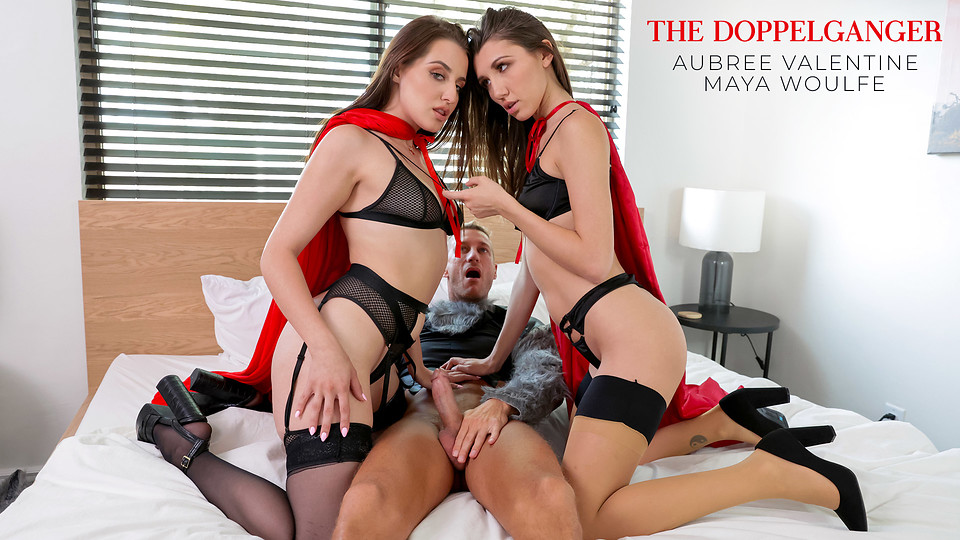 Ryan Mclean and his girlfriend Aubree Valentine are at a party. Things are winding down, and this Little Red Riding Hood wants to ride her Big Bad Wolf. Aubree tells Ryan to find a room while she goes to freshen up. As Ryan is wandering down the hall, he sees what he thinks is Aubree.
Her back is turned, so Ryan comes to kiss her on the shoulder. Little does he know that it's Maya Woulfe, not Aubree. Taking her mystery lover by the hand, Maya leads Ryan into a bedroom where he crawls into bed and lets her begin blowing his cock.Aubree returns to find Ryan missing.
Confused, she begins searching the bedrooms until she stumbles upon her boyfriend getting a blowjob from another lady. Instead of being pissed, Aubree agrees that maybe it would be good to share the loving. She lets Maya talk her into delivering a double blowjob that has plenty of sexy potential for even more satisfying outcomes.
The girls seal the deal with a kiss and then get down to business.Licking and sucking Ryan's fuck stick is just the beginning. Aubree gets on her knees so she can deep throat Ryan properly. The position lets Maya slide beneath her new lover's twat and lap at Aubree's clit.
When Aubree turns around to bury her face between Maya's thighs, Ryan slides on home into his girlfriend's lusty twat.Maya gets a taste of the D next as Ryan slides her forward. Sinking between her thighs, he strokes her nice and deep as Aubree rubs her clit. That just stokes all their passion even higher.
Ryan lays down in the bed so the girls can have their wicked way with him. Riding her boyfriend's tongue, Aubree leans forward to make out with Maya who is going to town on Ryan in cowgirl. They finally finish with Maya on her back and Ryan between her thighs. He pulls out in time to give the girls a big load of cum to share. More Nubile Films galleries.
Naughty Mag hottie gets naked and shows you that amazing body of hers.