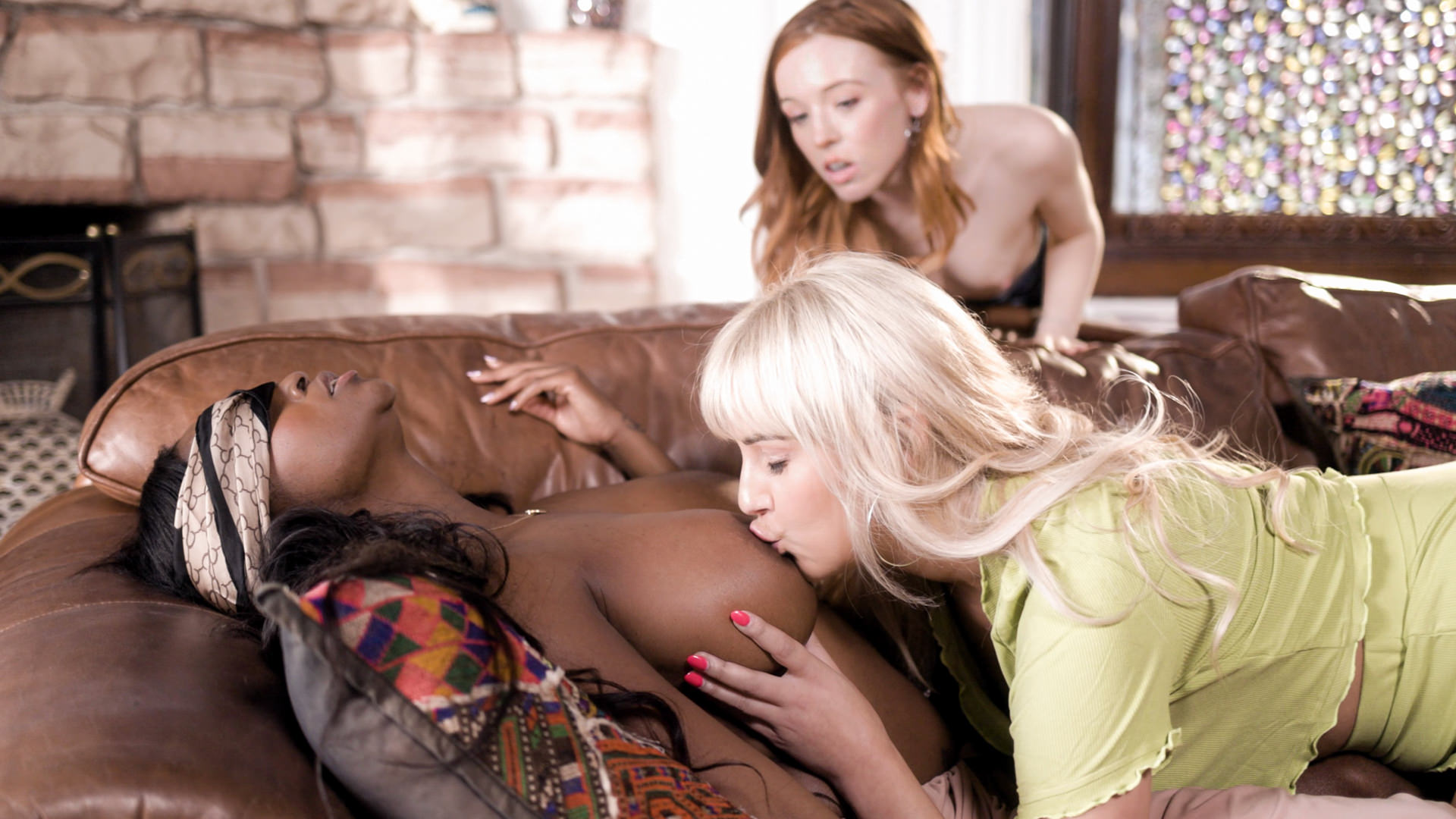 Description: Jordan Maxx returns home after a day out and chats with her stepdaughter, Madi Collins. Jordan is disappointed that a new friend of hers, Naomi Foxxx, who she has a crush on, has rebuffed her advances. It seems as though Jordan isn't Naomi's type since Naomi prefers younger women!

Madi hates seeing Jordan upset, and hatches a plan to help Jordan score with Naomi…

The next day, Madi and Jordan enact the plan, showing up at Naomi's house unexpectedly. As Naomi invites them in, meeting Madi for the first time, there are hints of attraction. This attraction only grows as Madi becomes increasingly more flirtatious with Naomi while the three of them chat. But then Jordan pretends to have a work emergency, hastily rushing out the front door and leaving Naomi to drive Madi home.

Alone with Naomi, the real fun begins as Madi becomes even more flirtatious, quickly seducing Naomi. As they begin fooling around, Madi suggests blindfolding Naomi and Naomi eagerly agrees.

With Naomi blindfolded, Madi secretly calls Jordan back into the house, revealing that Jordan never left. Jordan soon sneakily takes Madi's place, pleasuring Naomi, with Naomi still thinking it's Madi pleasuring her the whole time. Although things seem to be going to plan, Naomi soon pulls the blindfold away and is shocked when she realizes she's been tricked.

Jordan and Madi apologetically explain that after Naomi rebuffed Jordan's advances, she and Madi hatched this plan, which hinged on Naomi's preference for younger women. Jordan expresses how sorry she is, mentioning that she only did this because she REALLY likes Naomi. Fortunately, Naomi relaxes and admits that, although she DOES typically prefer younger women, she really likes Jordan too but was afraid of ruining their friendship!

Now with everything out in the open, and all three women still hot and heavy, they decide to finish what they started.
More Mommys Girl galleries.
---
Make sure you also check out this hot post featuring Joslyn James and Johnny Love.