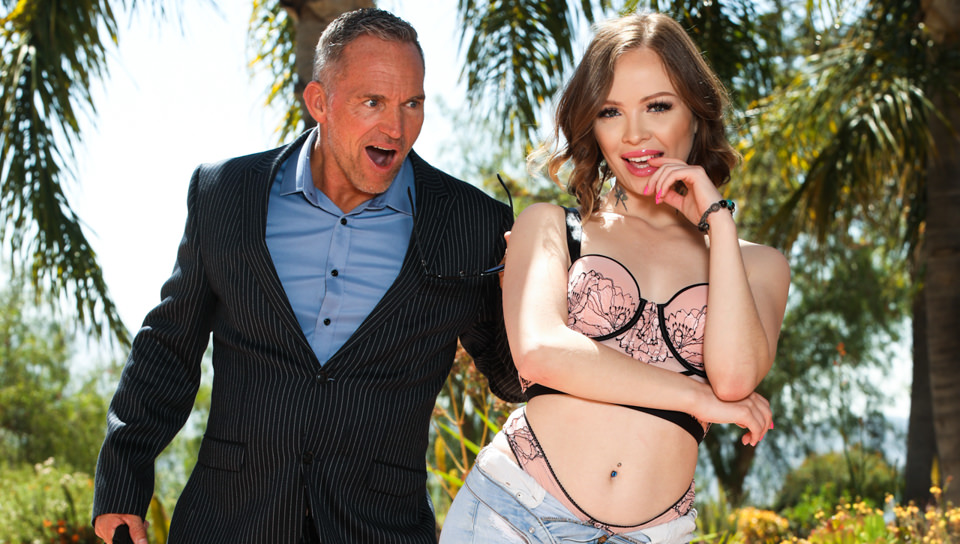 Description: Marcus London arrives home one day to find Aliya Brynn, his teen girl's best friend, at his home. When he asks where everyone else is, Aliya informs him that his ex-wife had to rush to the hospital, so everyone left to make sure that she's alright, leaving Aliya behind. Distraught by the news, Marcus goes to make a phone call and learns that his ex-wife is stable and that the rest of the family will be away for some time to look after her.

Aliya comes to join Marcus, and it's clear that she finds him VERY attractive. Marcus wants to relax, so Aliya suggests they get into the jacuzzi. Marcus likes the idea- he could probably use a steaming, hot bath to decompress. Marcus gets into his bathing suit and sinks into the hot waters of the tub. To his surprise, Aliya gets totally NAKED and shimmies up close to him.

Aliya says she wants Marcus to fuck her, but Marcus is hesitant. After all, he's old enough to be her grandfather! At the same time, how many opportunities will Marcus get like this at his age? Why not indulge in a little fun? He's certainly earned it. He gives in, and they embark upon a steamy sexual adventure in and around the jacuzzi. Seems like this horny old man is going to get much more 'relaxation' than he anticipated- and on this troubling day, it's more than he can ask for. More pics from 21 Sextury.
21 Sextury porn featuring Lulu Love, Holly Molly and Irina Cage.