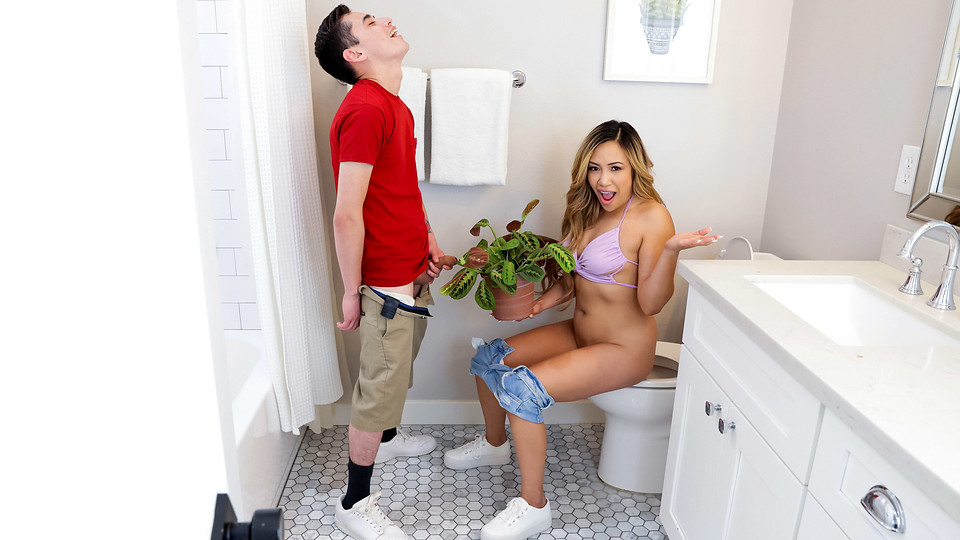 Horny shortie Samantha Lexi is taunting stepbrother Juan Loco by blocking him from using the restroom. She sits on the toilet and announces she doesn't really have to go, but she's just going to sit there until it comes out. When Juan freaks out, Samantha hands him a potted plant and holds his dick while he pees in it.
When he's done, Samantha confesses she never had to pee at all and then runs away. Later, Samantha corners Juan in his bedroom and climbs into his lap. When he throws her off, her dark areolas are exposed by her shirt pulling down. Samantha doesn't mind since her whole goal is to see Juan's dick again.
As soon as she gets her hands on the goods, she opens wide and starts sucking. Juan isn't about to question having his hot Latina stepsister's mouth on his dick blowing him, so he stands there and takes it happily. Getting to her knees, Samantha turns around to invite Ricky to slide it in in doggy.
Then she rides Juan in reverse cowgirl while throwing her head back in delight at the way he makes her quiver. Turning around for some cowgirl action gives Samantha the chance to set the pace yet again, which she does by leaning forward to shove her boobs into Juan's face while her booty keeps on bouncing. On her back, Samantha spreads her thighs for Juan to give it to her one last time before he pulls out to jizz all over her stomach.
---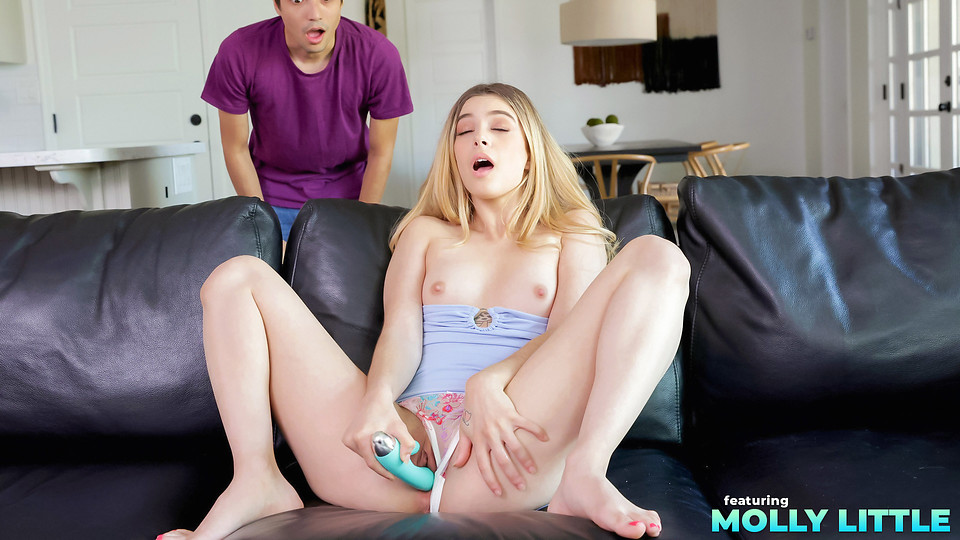 Molly Little and Ricky Spanish are new stepsiblings, a situation that they're both still getting used to. Ricky can't help but notice how hot his new stepsis is and that she likes to dress nice and sexy. For her part, Molly is fascinated by this new handsome guy living with her. Molly confesses that she misses the time when it was just her dad and her and he was never home.
Ricky figures out pretty quickly that Molly is implying that she used to do lots of masturbating around the house. He tells her that he's starting college this week and both their parents work, so Molly will still have the place to herself. Molly takes Ricky at his word and settles in on the couch with her Rabbit vibrator, which she cheerfully refers to as her big brother.
Ricky is still home when Molly gets going and sticks around long enough to watch Molly cum. When she realizes that Ricky is there, Molly tells him not to go because her pussy is still throbbing. That's enough encouragement for Ricky, who goes to work licking his new stepsister's pussy.From there, Molly insists that Ricky fuck her. How can he say no to that? Whipping it out, he shoves his dick into Molly's bare twat.
Her moans are like music to Ricky's ears. Even better, though, is when Molly gets Ricky on his back and begins sucking his fuck stick. That's a precursor to Molly straddling Ricky's legs and climbing aboard for a stiffie ride in his lap. Turning around, the horny spinner keeps their party going with big bounces. Ricky finishes Molly off in doggy, then pulls out to blow his nut all over her ass. Smiling and giggling, Molly admits she likes hanging out with Ricky better than being home alone.
---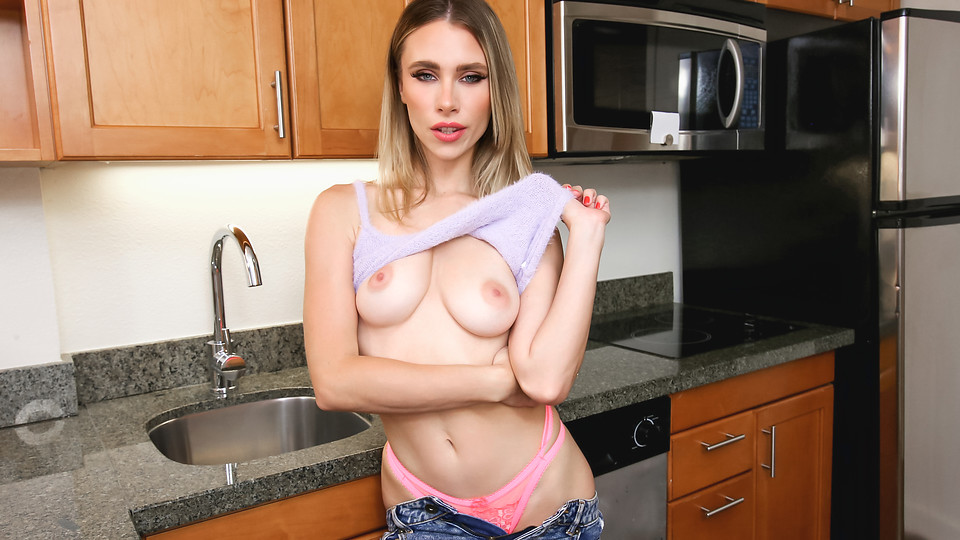 Anya Olsen walks in on her stepbrother Tony, who's in the kitchen reading the good book as part of his daily routine. Taking the book away, Anya launches into a rant about her boyfriend thinking about breaking up with her. She isn't attracted to the guy, which means that he thinks she's a prude.
She's looking for her stepbro to be her fuck buddy to help her get better in bed. If Tony doesn't help her, Anya says she's going to lie to their parents that they're fucking.Tony puts up a fight, but Anya is determined to get her way. She pops her titties out of her shirt to try coaxing him into touching her.
When rubbing her nipples to hard peaks in front of her stepbrother isn't successful, Anya turns around and pulls her shorts down. The sight of his stepsister's ass in that thong definitely gets Tony nice and hard. He can't help but reach out and touch, which is all the permission Anya needs.
Dropping to her knees, Anya pops Tony's hardon from his pants and uses that dirty mouth to begin sucking him off. They take their party to the bedroom, where Anya gives another round of that good suck before hopping aboard for a cowgirl ride. The only thing hotter than this cum craving coed riding Tony's cock in cowgirl is the view from behind when she turns around for a reverse cowgirl extravaganza complete with spankings.
Anya sucks her own goo from Tony's hardon before getting on her back so he can piston into her from above. Delighting in that big D, Anya flips over so that Tony can fuck her in doggy while giving another round of spankings. She finishes their interlude by blowing Tony yet again until he rewards her with a mouthful of cum to swallow.
---
Make sure you also check out this related post featuring several mature women masturbating.